Originally added on 20th December 2018
Last updated on 6th June 2019
This post is still under construction!
This is the third in a series of blog posts about psychedelics. The two earlier posts are "Recent psychedelic research: an introduction" and "Their use in psychotherapy (1st post)", while the five later posts are "Recent psychedelic research: how do they work?", "What are the risks?", "Their use in the general population", "Re-mining personal experience" and "Recent psychedelic research: further exploration".
In the first post on the use of psychedelics & psychotherapy, I wrote about the wide variety of substances that can be grouped under the general term 'psychoplastogens'. I mentioned very important developments involving ketamine and MDMA. I then focused on the large amount of early research on the classic psychedelics DMT, LSD, mescaline & psilocybin. In this second post on psychedelic-assisted psychotherapy, I pay particular attention to more recently emerging research. Rucker & colleagues, their 2018 paper "Psychiatry & the psychedelic drugs. Past, present & future" write: "Since 2006, there have been several pilot trials and randomised controlled trials using psychedelics (mostly psilocybin) in various non-psychotic psychiatric disorders. These have provided encouraging results that provide initial evidence of safety and efficacy"."For over 15 years the Johns Hopkins Psychedelic Research Unit has been the preeminent and most productive research team in the United States conducting human research with psychedelics. They have shown breathtaking scientific productivity, having published more than 50 peer-reviewed manuscripts on psychedelics, including 15 published laboratory studies."
See the excellent COMPASS website ... for example their ten-stop timeline of psilocybin-related events, with the last eight-stops providing links to interesting research studies, and their "recent news & views" section providing helpful up to date information.
Thal, S. B. and M. J. J. Lommen (2018). "Current perspective on MDMA-assisted psychotherapy for posttraumatic stress disorder" Journal of Contemporary Psychotherapy 48(2): 99-108. (Available in free full text) The present paper discusses the current literature with regard to substance-assisted psychotherapy with Methylenedioxymethamphetamine (MDMA) for posttraumatic stress disorder (PTSD). The aim of the paper is to give a comprehensive overview of the development from MDMA's early application in psychotherapy to its present and future role in the treatment of PTSD. It is further attempted to increase the attention for MDMA's therapeutic potential by providing a thorough depiction of the scientific evidence regarding its theorized mechanism of action and potential harms of its application in the clinical setting (e.g., misattribution of therapeutic gains to medication instead of psychological changes). Empirical support for the use of MDMA-assisted psychotherapy, including the randomized, double-blind, placebo-controlled trails that have been conducted since 2008, is discussed. Thus far, an overall remission rate of 66.2% and low rates of adverse effects have been found in the six phase two trials conducted in clinical settings with 105 blinded subjects with chronic PTSD. The results seem to support MDMA's safe and effective use as an adjunct to psychotherapy. Even though preliminary studies may look promising, more studies of its application in a psychotherapeutic context are needed in order to establish MDMA as a potential adjunct to therapy.
Sessa, B. (2018). "Why MDMA therapy for alcohol use disorder? And why now?" Neuropharmacology 142: 83-88. Alcohol use disorder represents a serious clinical, social and personal burden on its sufferers and a significant financial strain on society. Current treatments, both psychological and pharmacological are poor, with high rates of relapse after medical detoxification and dedicated treatment programs. The earliest historical roots of psychedelic drug-assisted psychotherapy in the 1950s were associated with Lysergic acid diethylamide (LSD)-assisted psychotherapy to treat what was then called, alcoholism. But results were varied and psychedelic therapy with LSD and other 'classical' psychedelics fell out of favour in the wake of socio-political pressures and cultural changes. A current revisiting of psychedelic clinical research is now targeting substance use disorders – and particularly alcohol use disorder - again. 3,4-Methylenedioxymethamphetamine (MDMA)-assisted psychotherapy has never been formally explored as a treatment for any form of substance use disorder. But in recent years MDMA has risen in prominence as an agent to treat posttraumatic stress disorder (PTSD). With its unique receptor profile and a relatively well-tolerated subjective experience of drug effects when used clinically, MDMA Therapy is ideally suited to allow a patient to explore and address painful memories without being overwhelmed by negative affect. Given that alcohol use disorder is so often associated with early traumatic experiences, the author is proposing in a current on-going UK-based study that patients with alcohol use disorder who have undergone a medical detoxification from alcohol might benefit from a course of MDMA-assisted psychotherapy. This article is part of the Special Issue entitled 'Psychedelics: New Doors, Altered Perceptions'.
Carhart-Harris, R. L., et al. (2018). "Psilocybin with psychological support for treatment-resistant depression: six-month follow-up" Journal of Psychopharmacology 235(2): 399-408. (Available in free full text) Rationale Recent clinical trials are reporting marked improvements in mental health outcomes with psychedelic drug-assisted psychotherapy. Objectives Here, we report on safety and efficacy outcomes for up to 6 months in an open-label trial of psilocybin for treatment-resistant depression. Methods Twenty patients (six females) with (mostly) severe, unipolar, treatment-resistant major depression received two oral doses of psilocybin (10 and 25 mg, 7 days apart) in a supportive setting. Depressive symptoms were assessed from 1 week to 6 months post-treatment, with the self-rated QIDS-SR16 as the primary outcome measure. Results Treatment was generally well tolerated. Relative to baseline, marked reductions in depressive symptoms were observed for the first 5 weeks post-treatment (Cohen's d = 2.2 at week 1 and 2.3 at week 5, both p < 0.001); nine and four patients met the criteria for response and remission at week 5. Results remained positive at 3 and 6 months (Cohen's d = 1.5 and 1.4, respectively, both p < 0.001). No patients sought conventional antidepressant treatment within 5 weeks of psilocybin. Reductions in depressive symptoms at 5 weeks were predicted by the quality of the acute psychedelic experience. Conclusions Although limited conclusions can be drawn about treatment efficacy from open-label trials, tolerability was good, effect sizes large and symptom improvements appeared rapidly after just two psilocybin treatment sessions and remained significant 6 months post-treatment in a treatment-resistant cohort. Psilocybin represents a promising paradigm for unresponsive depression that warrants further research in double-blind randomised control trials.
Here's a slide (below) from an earlier 2016 talk by Robin Carhart-Harris. These effect sizes merely indicate that something interesting & encouraging seems to be going on. Small unblinded, open-label studies done by treatment developers typically produce better results than later large, double-blind studies. However the patients Robin is reporting on here all suffered from treatment-resistant depression. It's very unlikely that medications, therapy or placebo would produce the high effect sizes shown in the slide for this difficult to help population.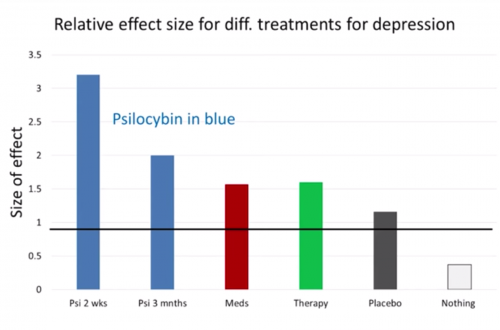 (effect sizes of pilot study on treatment-resistant depression from talk by Robin Carhart-Harris, TEDxWarwick 2016)
COMPASS Pathways Partners with Worldwide Clinical Trials to Conduct World's First Large-scale Clinical Trials in Psilocybin Therapy for Treatment-resistant Depression, Business Wire.
COMPASS Pathways, a healthcare company dedicated to accelerating patient access to evidence-based innovation in mental health, announced today that it is partnering with Worldwide Clinical Trials to conduct a major programme of late-stage clinical trials for psilocybin therapy for treatment-resistant depression. Depression is the leading cause of ill-health and disability worldwide, and one of the fastest growing health problems, affecting more than 300 million people around the world. George Goldsmith, Executive Chairman and Co-Founder, COMPASS Pathways, said, "We need a new approach to tackling mental health. Current treatments for depression work for many people but there is still a significant unmet need for a large number of patients living with this very challenging condition. "COMPASS is making rapid progress with plans to develop psilocybin therapy for patients suffering with treatment-resistant depression. Several small, exploratory academic studies have already shown the promise of psychoactive medicine. With Worldwide as our Clinical Research Organisation (CRO) partner, we will have the extensive experience and deep expertise needed to conduct the first ever large-scale randomised, controlled trials, covering 400 patients with treatment-resistant depression in eight countries." The trial will begin in the first quarter of 2018 and is planned to include clinical sites in Czech Republic, Finland, Germany, the Netherlands, Norway, Portugal, Spain and the UK.
Schenberg, E. E. (2018). "Psychedelic-assisted psychotherapy: A paradigm shift in psychiatric research and development" Frontiers in Pharmacology 9(733). (Available in free full text) Mental disorders are rising while development of novel psychiatric medications is declining. This stall in innovation has also been linked with intense debates on the current diagnostics and explanations for mental disorders, together constituting a paradigmatic crisis. A radical innovation is psychedelic-assisted psychotherapy (PAP): professionally supervised use of ketamine, MDMA, psilocybin, LSD and ibogaine as part of elaborated psychotherapy programs. Clinical results so far have shown safety and efficacy, even for "treatment resistant" conditions, and thus deserve increasing attention from medical, psychological and psychiatric professionals. But more than novel treatments, the PAP model also has important consequences for the diagnostics and explanation axis of the psychiatric crisis, challenging the discrete nosological entities and advancing novel explanations for mental disorders and their treatment, in a model considerate of social and cultural factors, including adversities, trauma, and the therapeutic potential of some non-ordinary states of consciousness.
Johnson, M. W., et al. (2017). "An online survey of tobacco smoking cessation associated with naturalistic psychedelic use" J Psychopharmacol 31(7): 841-850. Data suggest psychedelics such as psilocybin and lysergic acid diethylamide (LSD) may hold therapeutic potential in the treatment of addictions, including tobacco dependence. This retrospective cross-sectional anonymous online survey characterized 358 individuals (52 females) who reported having quit or reduced smoking after ingesting a psychedelic in a non-laboratory setting 1 year ago. On average, participants smoked 14 cigarettes/day for 8 years, and had five previous quit attempts before their psychedelic experience. Of the 358 participants, 38% reported continuous smoking cessation after psychedelic use (quitters). Among quitters, 74% reported >2 years' abstinence. Of the 358 participants, 28% reported a persisting reduction in smoking (reducers), from a mode of 300 cigarettes/month before, to a mode of 1 cigarette/month after the experience. Among reducers, 62% reported >2 years of reduced smoking. Finally, 34% of the 358 participants (relapsers) reported a temporary smoking reduction before returning to baseline smoking levels, with a mode time range to relapse of 3-6 months. Relapsers rated their psychedelic experience significantly lower in personal meaning and spiritual significance than both other groups. Participants across all groups reported less severe affective withdrawal symptoms (e.g. depression, craving) after psychedelic use compared with previous quit attempts, suggesting a potential mechanism of action for psychedelic-associated smoking cessation/reduction. Changes in life priorities/values were endorsed as the most important psychological factor associated with smoking cessation/reduction. Results suggest psychedelics may hold promise in treating tobacco addiction as potentially mediated by spiritual experience, changed priorities/values, and improved emotional regulation.
Griffiths, R. R., et al. (2016). "Psilocybin produces substantial and sustained decreases in depression and anxiety in patients with life-threatening cancer: A randomized double-blind trial" Journal of Psychopharmacology 30(12): 1181-1197. (Available in free full text) Cancer patients often develop chronic, clinically significant symptoms of depression and anxiety. Previous studies suggest that psilocybin may decrease depression and anxiety in cancer patients. The effects of psilocybin were studied in 51 cancer patients with life-threatening diagnoses and symptoms of depression and/or anxiety. This randomized, double-blind, cross-over trial investigated the effects of a very low (placebo-like) dose (1 or 3 mg/70 kg) vs. a high dose (22 or 30 mg/70 kg) of psilocybin administered in counterbalanced sequence with 5 weeks between sessions and a 6-month follow-up. Instructions to participants and staff minimized expectancy effects. Participants, staff, and community observers rated participant moods, attitudes, and behaviors throughout the study. High-dose psilocybin produced large decreases in clinician- and self-rated measures of depressed mood and anxiety, along with increases in quality of life, life meaning, and optimism, and decreases in death anxiety. At 6-month follow-up, these changes were sustained, with about 80% of participants continuing to show clinically significant decreases in depressed mood and anxiety. Participants attributed improvements in attitudes about life/self, mood, relationships, and spirituality to the high-dose experience, with >80% endorsing moderately or greater increased well-being/life satisfaction. Community observer ratings showed corresponding changes. Mystical-type psilocybin experience on session day mediated the effect of psilocybin dose on therapeutic outcomes.
Frecska, E., et al. (2016). "The therapeutic potentials of ayahuasca: Possible effects against various diseases of civilization" Frontiers in Pharmacology 7(35). (Available in free full text) Ayahuasca is an Amazonian psychoactive brew of two main components. Its active agents are β-carboline and tryptamine derivatives. As a sacrament, ayahuasca is still a central element of many healing ceremonies in the Amazon Basin and its ritual consumption has become common among the mestizo populations of South America. Ayahuasca use amongst the indigenous people of the Amazon is a form of traditional medicine and cultural psychiatry. During the last two decades, the substance has become increasingly known among both scientists and laymen, and currently its use is spreading all over in the Western world. In the present paper we describe the chief characteristics of ayahuasca, discuss important questions raised about its use, and provide an overview of the scientific research supporting its potential therapeutic benefits. A growing number of studies indicate that the psychotherapeutic potential of ayahuasca is based mostly on the strong serotonergic effects, whereas the sigma-1 receptor agonist effect of its active ingredient dimethyltryptamine raises the possibility that the ethnomedical observations on the diversity of treated conditions can be scientifically verified. Moreover, in the right therapeutic or ritual setting with proper preparation and mindset of the user, followed by subsequent integration of the experience, ayahuasca has proven effective in the treatment of substance dependence. This article has two important take-home messages: 1) the therapeutic effects of ayahuasca are best understood from a bio-psycho-socio-spiritual model, and 2) on the biological level ayahuasca may act against chronic low grade inflammation and oxidative stress via the sigma-1 receptor which can explain its widespread therapeutic indications.
More to follow ...