Originally added on 21st January 2018
Last updated on 23rd March 2018
So this is the second session of the "Compassion, wisdom & wellbeing: 8 week training". I posted a description of the initial session a few days ago ... "Compassion, wisdom & wellbeing training: 1st session content". This second meeting is also heavily based on the state-of-the-art structure described in the paper "ENHANCE: Design and rationale of a randomized controlled trial for promoting enduring happiness & well-being" with additions from Stanford University's "Compassion cultivation training". The course outline for the 1st evening involved content on Self-Determination Theory (S-DT), Compassion Cultivation and Values. This 2nd evening involves further input on S-DT, as well as work on Roles & Goals, Implementation Intentions and Compassion (this latter is a strand running through all 8 evenings).
The evening began with a brief centering meditation. Participants were then asked to fill in the Group session rating scale (GSRS) for how they had experienced last week's teaching session & subsequent homework. They are told it's fine to fill these scales in anonymously ... but if they score any of the four questions at less than "8", please would they jot down briefly on the GSRS sheet what would need to change for their score to reach "8" or above. Use of the GSRS has been shown to reduce dropout & improve outcomes in group interventions.
While the facilitators are quickly looking through this feedback, course members are asked to briefly review & jot down any further thoughts that seem important on the Session 1 reflection sheet. They then move into discussion in their ongoing four/five person support groups on how things have been going for them ... what are the most important things that are being learned and what next steps might help them progress further. Finally, in this introductory section, we'll move into full group discussion & trouble-shooting (partly via the GSRS feedback).
There are now four new content components ... S-DT, Roles/Goals, Implementation Intentions & Meditations. Last week we discussed how S-DT is an important linking theme throughout this training. We introduced S-DT Needs and assessed how well we are meeting them in our lives using the recent Psychological needs satisfaction measure (NSM). At this second meeting, we introduce S-DT Goals & Motivations. There are four sheets it would be useful to look at in extending our understanding of S-DT. Here are a couple of slides on Goals (printable as a 2-miniatures-to-a-page handout).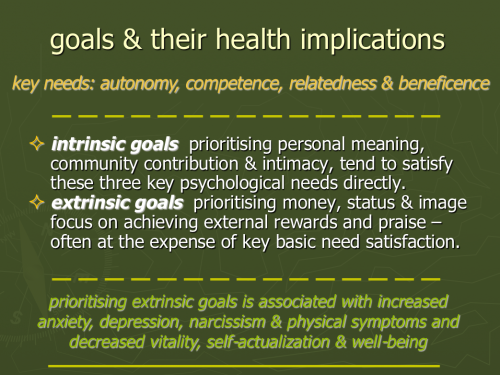 Here a couple on Motivations (again printable as a 2-miniature-page), here a slide on the interaction between Goals & Motivations, and here a sheet (see below) clarifying the distinction between Controlled (first two lines on the sheet) & Autonomous Motivations (second two lines). In general we're likely to build wellbeing in our lives if our choices are largely Autonomous (although often our motivations will come from a mix of reasons), and mostly aiming for Intrinsic goals.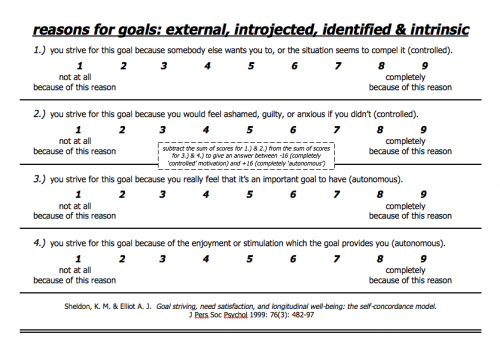 Roles & goals ... here are Funeral speeches or the equivalent 80th birthday party and also a Goals for roles: how are you doing at the moment? sheets. At this second meeting we took three roles (from our Funeral speeches/80th birthday party sheets) and wrote out what we would most want someone, who knew us in this role, to be able to say about us in the future. I suggested working with one relationship role (possibly the one that describes the relationship that we're using in our loving-kindness practice this week), one work role (typically one about our 'job', but 'home-maker', voluntary worker, and so on are all fine too), and a self-care role. Many people will have one self-care role that covers all activities like exercise, diet, sleep, dependencies/addictions, and maybe too meditation practice, connection with nature, and other areas we personally want to group together under self-care. Some people will put self-care activities under more than one role. This evening I asked that we choose a self-care role that includes how we want to manage with physical exercise and sleep. We then went on to use the goals for roles: how are you doing at the moment? sheet to ask ourselves how we're currently doing in these three roles. What do we 'celebrate' about our current behaviours, what 'needs work' and what 0-100% competency score would we currently give ourselves in this role? As home practice, we'll go on to look at how we can make a further step forward in each of these three areas.
Implementation intentions are well worth knowing about if one is aiming to make changes in one's life that look worthwhile but a bit daunting. Here is a Background information sheet and here one on How to do it. Do please experiment with this "If X obstacle occurs, then I have plan Y in place to respond to this challenge" approach. This way of supporting change work has a lot of under-pinning research highlighting it's considerable potential value ... see, for example, "New research describes effective ways of changing long-term personality traits & other persistent behaviour patterns".
For meditations, there will be the longer 'formal' Compassion cultivation practice for the week, which Kirsty talked us through. There is also the next phase of the three times daily 12-breath (3 minute) practice. See the blog post "Compassion, wisdom & wellbeing: 2nd session home practice" for links to these meditations.
useful ideas in the second of the MP3's mentioned in this paragraph; Stanford's Compassion cultivation approach; and,
In a similar way to our exploration of which way to go with breathing-space exercises this week, it's also unclear as yet whether the quotations being carried for the Physical reminders exercise should continue to be heart-focused or should now be more belly/spine-focused. It's possible too to move from verbal quotations to pictures of respected figures, carried physical objects, and so on .... see Heart quotations and Belly/spine quotations for more ideas. And see too the Four-week record sheet and the "Session 2 reflection sheet".
More to follow ...