Originally added on 24th April 2009
Last updated on 28th September 2009
Heading home.  Up quite early this morning.  Eventually left the hostel about 9.00am.  I drove up to Inverness before looping round to head down the A9.  I've just stopped in Aviemore at the Mountain Cafe  for old time's sake.  I came here a year ago on the way back from a trip camping and walking in the Fainnichs.  I was here again last October with my son-in-law and a friend after we'd walked north through the Lairig Ghru  - the marvellous pass through the Cairngorms.  This is a great cafe.  Eating their "Fresh fruit glass with runny honey and natural yogurt" more to justify my place at a table than anything else.
Good feeling, journeying home after this trip.  Good memories.  Good to be heading back to Catero, my wife.  Home and work.  Trips like these are a breathing space.  Time to stretch, reflect, connect.  If I wanted to have a really happy day, I would choose to spend time with people I love.  We're social animals.  When Diener and Seligman wrote up their study "Very happy people" they said "We compared the upper 10% of consistently very happy people with average and very unhappy people. The very happy people were highly social, and had stronger romantic and other social relationships than less happy groups ... Compared with the less happy groups, the happiest respondents did not exercise significantly more, participate in religious activities significantly more, or experience more objectively defined good events. No variable was sufficient for happiness, but good social relations were necessary." 
But there's a deep value of being on one's own too.  In a blog post from our walk in the Sahara a month ago I talked about Damasio's work and a sense of connecting deeply with oneself.    I've thought in the past that walking on Scottish hills doesn't encourage an internal meditative stance like the desert trips.  In fact this is only partly true for me.  If there's good visibility or a good, clear path, or both, then I can move into a quieter, less externally vigilant internal state.  If I need to pay a good deal of attention to keeping safe and on track, then I find it less of an opportunity to quieten deeply and mindfully.
I put together a model to chart some of these internal spaces we visit and the different patterns of thought involved: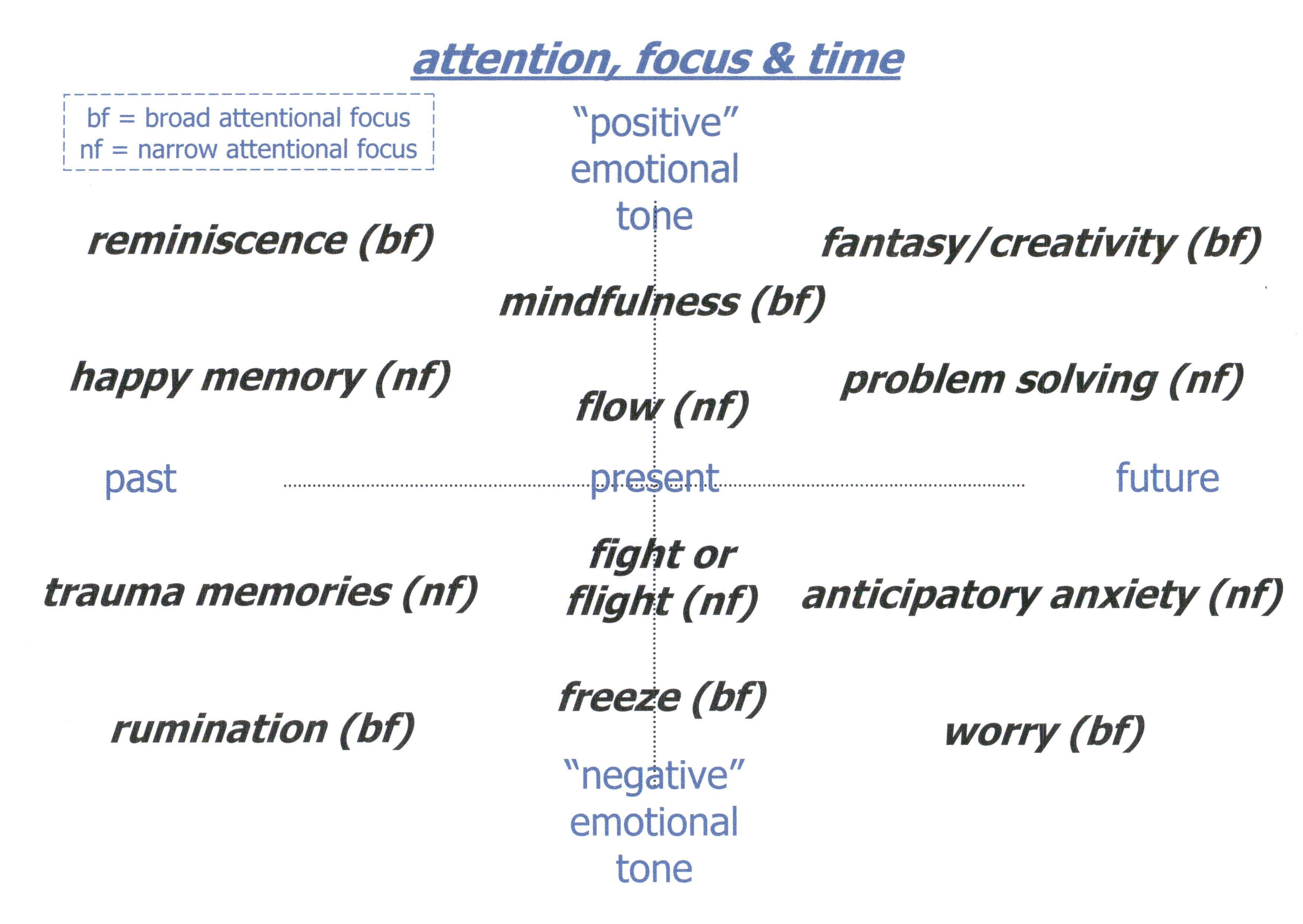 If you want to, you can download this diagram as a Powerpoint slide.  I highlight to clients that the repetitive self-damaging broad-focus thinking of rumination and worry is routinely unhelpful.  I encourage them to notice when they have slipped into this kind of thinking pattern and then shift gear into problem-solving (if it's appropriate) or task focus (flow) or mindfulness.  I talked in yesterday's post about creative thinking and it's relationship with rumination and worry.