Originally added on 31st October 2010
Last updated on 4th November 2010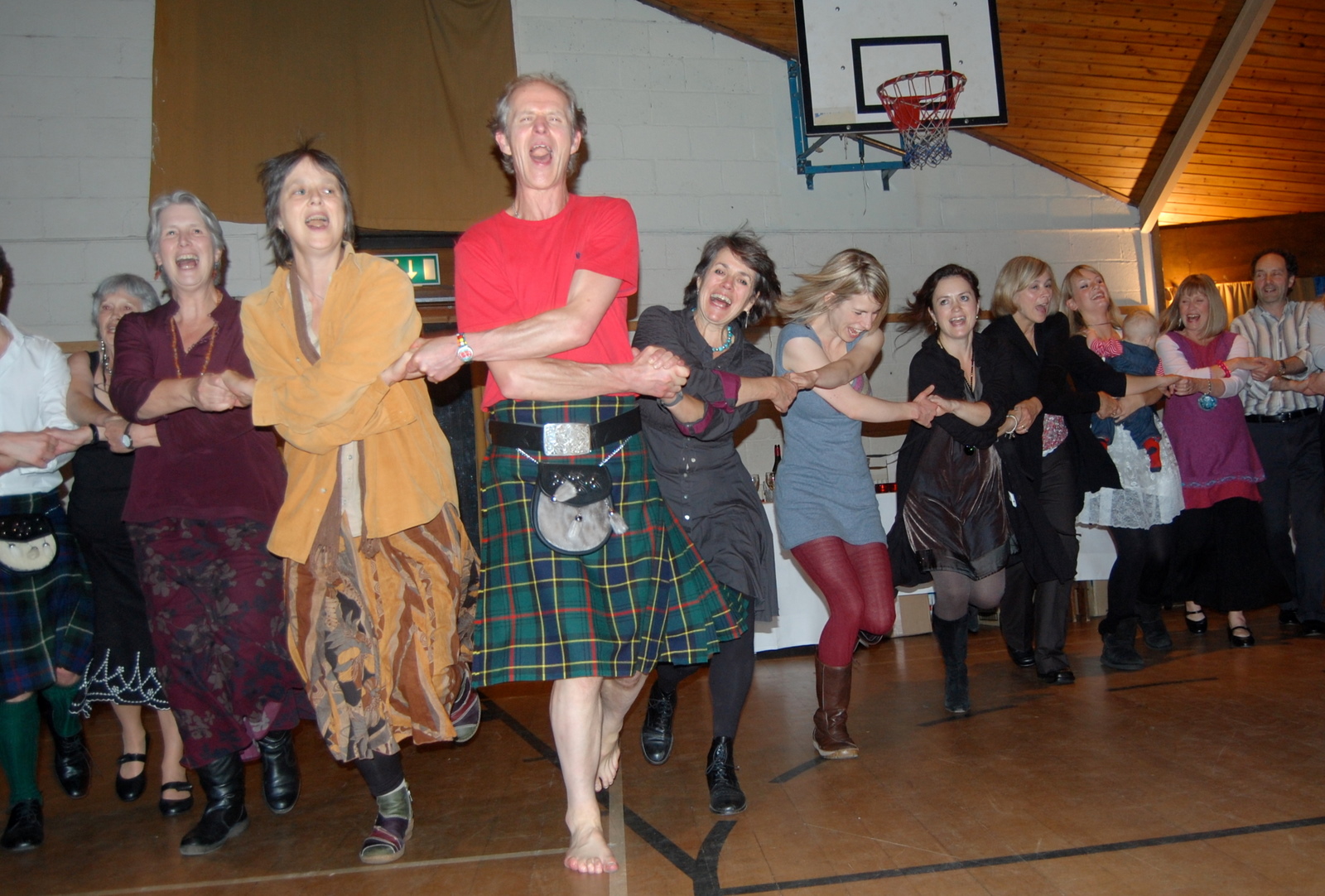 Yesterday, Catero and I celebrated our 30th wedding anniversary with a ceilidh.  This is Auld Lang Syne at the end of the party.  I'm the loudmouth (on one glass of wine), with dear Catero on my left (to the right in the picture).  Laura, precious stepdaughter, is three places to my left and Kieran, precious son, only half shown four places to my right.  Celebration and gratitude ... and very relevant to this month's blog post themes of relationships and social networks.
Professor Michael Argyle used to say that Scottish Country Dancing is the ideal happiness-inducing activity - physically active, highly social, music, sharing, great.  We ranged in age from Josh & Mia, grandchildren respectively aged 5 & 7 (and to the right of the picture an even younger reveller), to friends who are well into their 70's.  All dancing together to Carrie's brilliant ceilidh band.  Joy!
Social networks are so important.  I love the intimacy of deep one-to-one conversations and the fun of small groups sharing a meal or walk or badminton game.  But this evening's party was a celebration and nourishment for much bigger numbers.  Lovely to be part of.
And as my son put it, it's so important to say what we need to say to people before they're dead and gone.  My beloved mother died earlier this year and all of our close family spoke at her funeral and her memorial service.  Happily we'd already told her ... she knew how much she was loved & valued.  Her 90th birthday party had been a great opportunity to do this publicly.
This evening was a special mixture of sharing food & drink, talking, dancing and offerings of poetry, song, music, and generous words from kind & highly creative friends & family.  This 30th wedding anniversary ceilidh was such a joy and at the centre of it all, the heart-warming opportunity to celebrate and express my gratitude in front of the community of our family & friends to dearest Catero for this deeply special 30 years that we've been married.